I know that you all have seen it all over my Twitter, but don't forget that Before I Fall comes out next week! I have had the privilege of reading this one early, and it was gorgeous. I know I'm not alone in saying that this was an amazing book.
Laurie Halse Anderson is one of my favorite authors; Speak and Wintergirls both changed my life. Oliver's style is in some ways very similar to Anderson's. I think this book is every bit as good as Anderson's, and that is a massive compliment coming from me.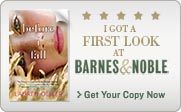 If you're not pre-ordering this now, you should read my (no-spoiler)
review
of the book. It still has me thinking three weeks after I read it, and I think I'm going to re-read it this week. Yes, already.